Devices for control, monitoring dimension
and diagnostics of machinery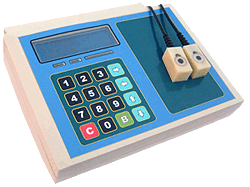 Optical system for clearance control
Purpose:
Non-contact multichannel measurement of diaphragm's deformations and clearances while centering the high-pressure, middle-pressure and low-pressure turbine setting.
Precise non-contact multichannel measurement of clearances while making the repair works.
Measurement of angular positions.
Cостав:
clearances measuring unit
a set of measuring sensors
battery-powered unit
angular position sensor
Application area:
Centering of the steam turbine setting.
High-accuracy non-contact clearances measurement while making the repair works.
When performing centering operations clearance control system is used in conjunction with the boring bar (mechanical falshal), which provides the installation of measuring sensors in the flowing part of the turbine unit.
The system for clearance monitoring provides:
:
non-contact multichannel clearance measurement while making the centering works of the turbine setting;
measurement of the boring bar rotation angles;
non-contact clearances measurement while making the repair works of the rotor-type equipment.
Technical data
Number of channels for clearance measurement
20
Measurement range of clearance, m
0 - 6000
Absolute admissible error in clearance measurement, μm

- range I (0 - 2500)

- range II (2500 - 4500)

- range III (4500 - 6000)


±1
±3
±5
Number of channels for angular position measurement
1
Measurement range of angular position, deg
0 - 360
Absolute admissible error in angle measurement, deg
±2
Length of switching cable, m
10
Power supply type
battery-powered
Supply voltage, V
12
Time of continuous battery operation, h, not less
8
Sensor intended for clearance measurement
transformer
Overall dimensions of the clearance sensor, mm
24х24х45
Overall dimensions of the device, mm
300х275х120
Mass of the device (without cable), kg, not more
4
It is made as a battery-powered compact device.
Terms of delivery:
Time of delivery - 3 - 4 months.
Guarantee period - 12 months.
Engineering information:

E-mail: market@niioep.ru
Pyotr N. Rudenko
Phone: +7(81369) 42914