For wide application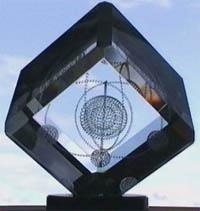 Souvenirs of optical glass
Three-dimensional image of practically any object in a glass block.
An image is forming by the volume laser graphics method through making a lot of microinjuries in the given points of the transparent volume.
Exclusive products according to the custom's orders can be manufactured with guarantee for no replication in future, development and delivery of any quantity of the souvenirs with the desired image of:
- emblems
- trade marks
- proprietary labels
- buildings
- monuments
- portraits ets.
SOUVENIRS MANUFACTURED AT NII OEP